From professional mechanics to DIY enthusiasts, the garage is a workstation and happy place for many across the country. That's why it's important to keep it safe and clean. All the hours spent tinkering can lead to months of germ and bacteria buildup. But don't fret. Gonzo Disinfectant Deodorizer & Cleaner Spray is every DIYer's new best friend. The ready-to-use formula is a highly effective, all-purpose cleaner. Simply spray, let the solution sit and wipe the affected area clean.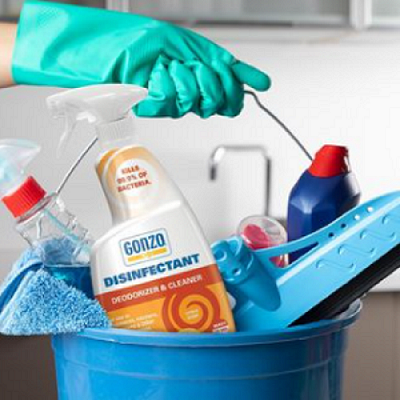 Here's a step-by-step guide to clean up your garage or workspace:
Step 1: Remove personal safety equipment such as face masks, protective goggles or other gear that touches or protects your body.
Step 2: Preclean heavily soiled areas or noticeable stains such as grease or mud.
Step 3: Apply Gonzo Disinfectant Deodorizer & Cleaner to the affected area. This can be done in a variety of ways: Spray the area directly from 6-8 inches away or spray a cloth, sponge or brush and wipe away. Avoid breathing in the spray.
Step 4: Leave affected areas wet and untouched for 10 minutes. This is crucial, as it gives Gonzo proper time to penetrate the affected areas and disinfect thoroughly.
Step 5: Wipe the surface dry with a clean cloth or simply let it air dry.
Step 6: Change solution daily or when visibly dirty.
Gonzo Disinfectant Deodorizer & Cleaner Spray can also be used on your car. Follow the same steps above to get rid of spills or smoke odors. Just don't spray directly on leather!
HOW TO QUICKLY KILL COVID-19 AND OTHER VIRUSES
There's no denying Covid-19 has changed the world. It's impacted nearly every stage of life, even the way people feel about being in their home. That's why it's more important than ever to keep your home as safe and clean as possible.
Luckily, Gonzo Disinfectant Deodorizer & Cleaner is an effective method for disinfecting surfaces from coronavirus. Gonzo demonstrated effectiveness on hard, non-porous surfaces with 5% soil and follows the Environmental Protection Agency's (EPA) guidance for Covid-19 product eligibility. To be eligible for use against an emerging viral pathogen, the EPA recommends using a registered disinfectant with potency against at least one large or one small non-enveloped virus.
Gonzo's ready-to-use formula kills 99.9% of organisms found on household surfaces. In fact, Gonzo Disinfectant Deodorizer & Cleaner effectively kills Covid-19 in only 10 minutes. Simply apply to the affected area and let sit for 10 minutes. Then, wipe the area with a clean cloth or let it air dry.
Beyond disinfecting, Gonzo Disinfectant Deodorizer & Cleaner is also a great odor eliminator, sanitizer, viricide, fungicide and mildew fighter. It's truly the perfect weapon to keep your home safe and clean while leaving it smelling fresh. Choose from lavender or citrus scents.