SEVEN STEPS TO SAFELY CLEAN YOUR FOOD PREP SURFACES
It's time to eat! That means we need a clean space to prepare our food. Take a look at our step-by-step guide to properly disinfect your kitchen counters.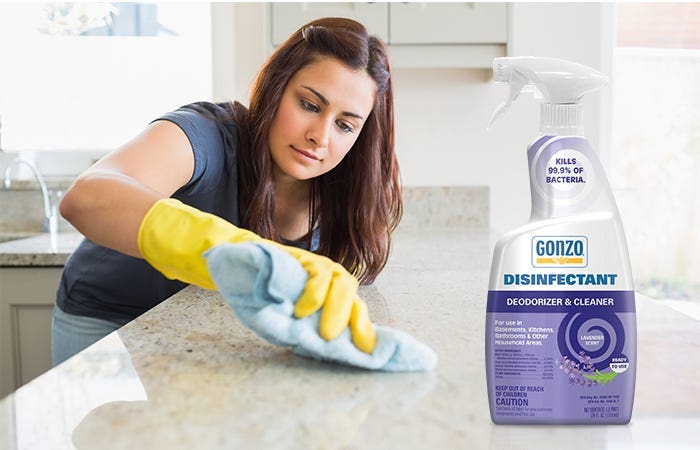 Step 1: Remove or carefully cover food products or packaging materials from the room.
Step 2: Start by cleaning any heavily soiled areas (i.e., clean any noticeable food stains or splatters).
Step 3: Apply Gonzo Disinfectant Deodorizer & Cleaner to the affected area. This can be done in a variety of ways: Spray directly, from 6-8 inches away from the surface or onto a cloth, sponge or brush. DO NOT INHALE THE SPRAY.
Step 4: Leave affected areas wet and untouched for 10 minutes. This is important, as the spray must penetrate the affected areas to disinfect thoroughly.
Step 5: Wipe your surface dry with a clean cloth or simply let it air dry.
Step 6: Change solution daily or when visibly dirty.
Step 7: For food prep surfaces: If you have non-porous food contact surfaces, apply Gonzo Disinfectant Deodorizer & Cleaner and rinse thoroughly with water.
How much time do you spend in the kitchen? Many people spend hours of their day in the kitchen — from cooking and congregating to using the space as an at-home workstation. It's a highly trafficked area, meaning your countertops, sink, refrigerator, stove and cabinets are all prime spots for harmful bacteria and germs to gather and grow.
But don't fret. Gonzo Disinfectant Deodorizer & Cleaner is easy to use and safe on all kitchen surfaces. Beyond disinfecting, Gonzo Disinfectant Deodorizer & Cleaner is also perfect for cleaning and deodorizing. The best part? It's ready to use. There's no mixing or diluting. Simply use the disinfectant and antibacterial spray in any area of need around your home.
HOW TO QUICKLY KILL COVID-19 AND OTHER VIRUSES
There's no denying Covid-19 has changed the world. It's impacted nearly every stage of life, even the way people feel about being in their home. That's why it's more important than ever to keep your home as clean and safe as possible.
Luckily, Gonzo Disinfectant Deodorizer & Cleaner is an effective method for disinfecting surfaces from coronavirus. Gonzo demonstrated effectiveness on hard, non-porous surfaces with 5% soil and follows the Environmental Protection Agency's (EPA) guidance for Covid-19 product eligibility. To be eligible for use against an emerging viral pathogen, the EPA recommends using a registered disinfectant with potency against at least one large or one small non-enveloped virus.
Gonzo's ready-to-use formula kills 99.9% of organisms found on household surfaces. In fact, Gonzo Disinfectant Deodorizer & Cleaner effectively kills Covid-19 in only 10 minutes. Simply apply to the affected area and let sit for 10 minutes. Then, wipe the area with a clean cloth or let it air dry.
Beyond disinfecting, Gonzo Disinfectant Deodorizer & Cleaner is also a great odor eliminator, sanitizer, viricide, fungicide and mildew fighter. It's truly the perfect weapon to keep your home safe and clean while leaving it smelling fresh. Choose from lavender or citrus scents.